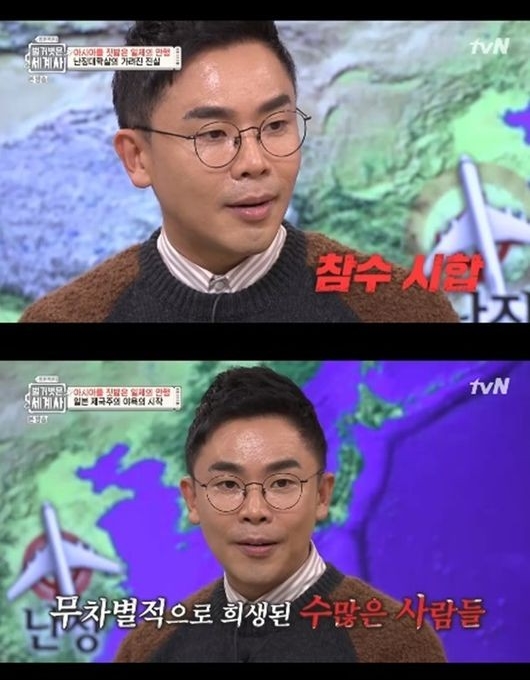 'Seol Min-seok's Naked World History', which was engrossed with historical errors and distortions and demands for abolition among netizens, was broadcast normally, but there was no mention of the controversy last week.
The story of China was drawn on tvN'Seol Min-seok's Naked World History', which aired on the afternoon of the 26th.
However, there was no mention or apology for the controversy over the distortion of history that was raised in the previous episode. On this day, the Nanjing Massacre and Japanese 731 units were dealt with.
Large and small errors were pointed out while dealing with Egyptian history in last week's broadcast. This is through the public issue of archaeologist Minsu Kwak, head of the Korean Institute of Egyptian Studies. Afterwards, the broadcast crew apologized, but soon another distortion controversy erupted. On the 15th, the inaccurate content contained in the video'Why Queen Seondeok Comes Out of the Labor Song' posted on Seol Min-seok's YouTube was pointed out again, and this video has been deleted.
Even in the field of Korean history, where he had been teaching for a long time, Seol Min-seok was questioned about the quality of his lecturer by often giving lectures with incorrect facts. The 33 national national representatives explained what had been gathered at Taehwagwan during the March 1st Movement, conveying inaccurate facts, and being asked for damages from the bereaved family of 33 national representatives.
Experts agree that the field of public instructors is also necessary as an intermediary to easily and interestingly convey expert knowledge and research results to the public. However, this case is a controversy that could have been prevented if the field of experts was respected and the advice, supervision, and advice of experts in the field were carefully checked.
This is a protest by Kwak Min-soo, "It seems that the content I asked for was not reflected well, and just don't look at it." This is also revealed in the fact that it was listed on the credits at the end.
This is the reason why it is pointed out that the error would have been avoided if the production crew and Seol Min-seok had faithfully followed the advice of Director Kwak, an Egyptology expert, in a manner such as receiving a script before filming.
Meanwhile, on the 21st, the production crew of'Naked World History' posted a notice on the official website bulletin board on the 21st and announced that they would take measures such as apologizing and increasing advisory groups to prevent recurrence.
[News Inside Reporter Jeong Yong-in news@newsinside.kr]
위 기사는 AI가 자동으로 번역한 기사입니다.