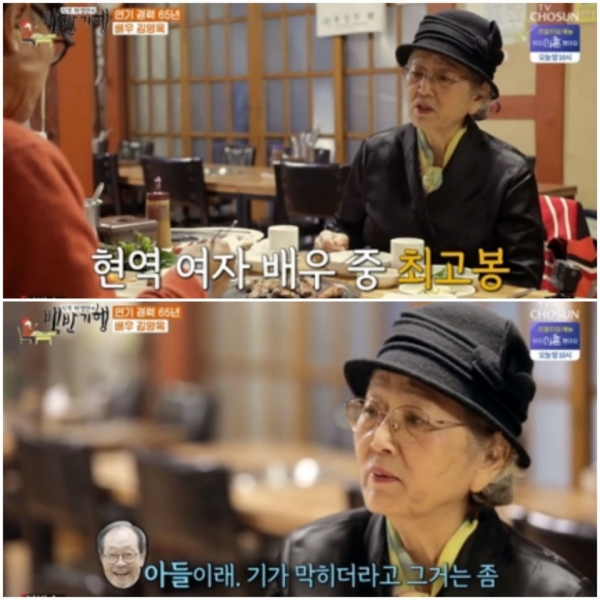 Actor Kim Young-ok shared his grievances as the oldest active actor.
Kim Young-ok appeared on TV Chosun's ``Sikgaeng Heo Youngman's White Ban Journey,'' which aired on the 25th, and went on a gourmet tour with Heo Youngman.
As soon as Kim Young-ok appeared, he showed his fan spirit for Lim Hero. After discovering the signboard of Lim Young-woong, he was amazed, saying, "I also modeled." Heo Young-man handed a Christmas present to change Kim Young-ok's heart. It was a Bluetooth microphone suitable for him who likes to sing.
Kim Young-ok, who tasted cheonggukjang as his first menu, remembered his family. "Whenever I eat something delicious, I think of my family. I couldn't provide much food while working. When the kids' father was young, he said,'I'm amazingly happy. I ate all the food in my arms according to the hands of the workers.'"
An anecdote from Siraegi was added. Kim Young-ok said, "At the age of 14, the Korean War broke out and my older brother went to school, and then he just disappeared. 50 years after he disappeared, we met in the north at the second reunion of separated families. My little brother was 18 years old, and he went out to the military. "I was so hungry when I did it. So, I put salted shrimp on the siraegi without my mom knowing."
Heo Youngman mentioned'halminem' saying, "When I watched YouTube, there was something that the teacher swears." Kim Young-ok explained, "I came out as a grandmother thug in the drama. I solved all the neighborhood affairs, and when the kids smoked, they threw stones and beaten them," he explained.
Kim Young-ok, who is the oldest among active female actors, said, "I worked tirelessly, but there is no building." "He said.
He said, "I had many old sons. I once played the role of Shin-gu's mother, who is older than me. It was amazing. I was three years older than me, and he also played the role of a son."
[News Inside Reporter Kang Haru news@newsinside.kr]
위 기사는 AI가 자동으로 번역한 기사입니다.