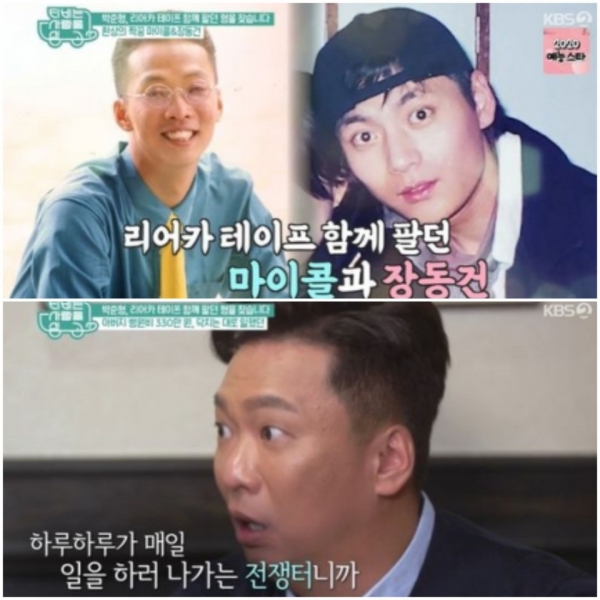 Comedian Park Joon-hyung reunited with Kim Young-deok, a life partner who worked with the rear car road board tape business.
In KBS'TV Carrying Love', broadcast on the 23rd, Park Joon-hyung appeared and looked for the first mate in his life.
On this day, Park Joon-hyung introduced himself as "a 24 year comedian, a comedian," and confessed his family history, which was difficult when he was in school. He said, "My father has been taxiing since childhood, and I couldn't work because of diabetes around the age of 13. My mother was hard to make a living on her own, so I worked a lot before becoming a comedian. In my early 20s, I sold road board chart tapes with a rear car. "I want to find a one-year-old Kim Young-deok hyung who was in business with him."
Park Junhyung confided about his fierce school days. He said, "When I was in school, I sold rear car tapes. I worked part-time at a gas station at dawn." "I gave 100% of my income to my mother, and my mother, who was responsible for living instead of my sick father, also sold electric pads to door-to-door. He said, "I grew up early watching my parents."
Park Joon-hyung said he lived in a two-room house. When his parents shared one room and two older sisters, he spent the summer in the kitchen or shared his parents' room in the winter. He said, "Because it was a row house, I used a basement like a warehouse as a room," he said. "When it rained a lot in the basement warehouse, it often turned into a sea of water. I had to dig it all out. It was uncomfortable, but I could bear it because it was cozy." did.
Park Joon-hyung grew up wonderfully without a single adolescence during his difficult school days. He said, "When it rained in school, my parents envied the friends who brought umbrellas, but I walked in the rain with bravery," he said. "There weren't many complaints and complaints. Since I was my parents who worked hard for their children, I shouldn't do anything that would worry me. I had an idea."
"Because my father helped me, I was able to overcome my obscurity, and while driving a taxi, I bought my favorite Monaca snacks every day. Especially, when I listen to'Yanghwa Bridge' by ZionT, tears come out. At first, it was really like my story, so I cried a lot." He said, "If I work all night, my mom would hurt my heart, so I went in while singing happily. I tried not to make a tough expression. I lived really fiercely without a chance to be upset."
Park Joon-hyung, who passed the KBS public service comedian six months after closing the rear car business in two years, said, "The hospital fee for the hospitalized father was 3.3 million won. To make money, I also worked as a reporter at 180,000 won a day. It was a battlefield where I went out. Since I lived in my twenties so fiercely, it seems that Yeongdeok has become far from hyung. When I meet, I want to say thank you and give me a hug.
In earnest, he headed to Park Jun-hyung's alma mater. Following the record book when he was a schoolboy, he even revealed his warm looks as a child. Kim Won-hee said, "What the hell has happened?" Park Jun-hyung said, "I'm sorry," and laughed.
After asking, I found an apartment where Kim Young-deok lives. I met Kim Young-deok's parents through the broadcast of the manager. Kim Young-deok's parents said, "I invited him at the wedding of Park Joon-hyung in 2005, but he said he couldn't, so I don't know why." After the news, Park Joon-hyung moved to the last place.
Park Joon-hyung, who arrived at the meeting place, eagerly called his name, "Young-deok-i brother". Then he hugged, saying, "Thank you for calling me." They were two people who reunited after 20 years.
Park Joon-hyung said, "My partner is here," and "it was good to come out here," and blushed. When asked why he couldn't attend the wedding at the time, Kim Young-deok confessed, "Most of the guests were celebrities. It was burdensome to go alone, and I couldn't go after hard work."
Regarding the fact that the meeting was established in 20 years, the two said, "I want to see you more often as much as I haven't seen it. I hope we can be a comfortable friend because we met again difficultly."
[News Inside Reporter Kang Haru news@newsinside.kr]
위 기사는 AI가 자동으로 번역한 기사입니다.