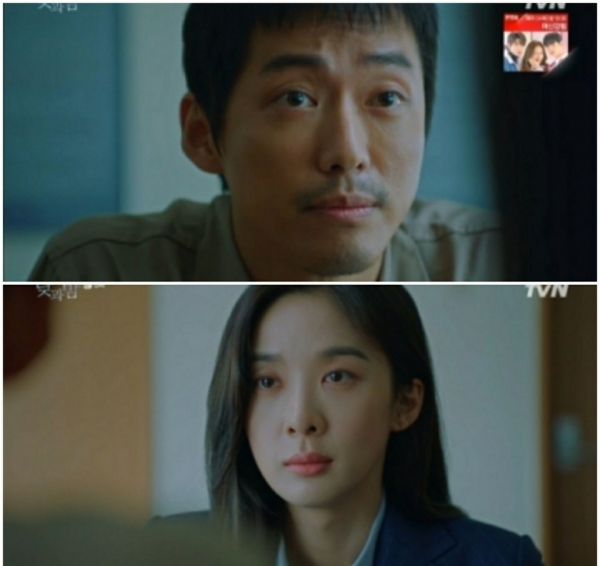 After Nam Gung-min was imprisoned, he said to Lee Chung-ah, who visited him, "I am a monster."
In the tvN Monday and Tuesday drama'Day and Night', which aired on the 15th, a scene in which Do Jeong-woo (Nam Gung-min) was arrested by a junior police officer Gong Hye-won (Kim Seol-hyun) was depicted on suspicion of attempting to murder Son Min-ho (Choi Jin-ho).
Do Jung-woo faced Gong Hye-won after being arrested. Gong Hye-won asked Do Jeong-woo, who had been relegated to the post, about the serial murder that preceded him.
Do Jung-woo said, "There is no god. I was born in a white night town," and confessed about the experiment in the past white night town. In White Night Village, we took young children from the past to experiment. Do Jeong-woo is from White Night Village.
Do Jung-woo said, "It's not those people who have no guilt. They are the children who became subjects without knowing anything." He also confessed that he used a dream to kill people by predicting murder. Do Jung-woo was eventually imprisoned for attempting to murder Son Min-ho.
Jamie Leighton (Lee Cheong-ah) visited Do Jeong-woo. It was to solve the curiosity that the names of himself and Do Jung-woo were not left in the records related to the White Night Village.
Jamie Layton said, "What happened that day. Why did people die. People were supposed to commit suicide. Some seemed to kill each other. Did I do it?" Do Jung-woo stopped saying, "Doctor? What channel is you doing?"
Jamie Leighton said, "I don't know at all, but I have a dream that is getting clearer, and that dream tells me I made it that way," Do Jung-woo said, "Doctor caught the culprit. Game over. Stop going back to America now."
Do Jung-woo said all the stories, but Jamie Layton said, "Why didn't we both remain on the record. What are you not telling me. Why did you do the surgery for me?" He said that it was a monster that saved you. That monster was me. Again, that monster saved you, so this is it."
Do Jeong-woo submitted medical records to the police and fell unconscious in the process of being arrested. Jamie Leighton said,'I've been fond of riddles since I was a kid. But now, finding an answer is not enough to be satisfied. 'Because nothing has been finished yet,' he raised the tension in the play.
Not only this. At the end of the broadcast, Gong Hye-won's father Gong Il-do (Kim Chang-wan) and Oh Jung-hwan (Kim Tae-woo) were also shocked to find that they were involved in the White Night Village incident 28 years ago. It is interesting to note what happened to Do Jung-woo in White Night Village and how it was related to Jamie Leighton.
[News Inside Reporter Kang Haru news@newsinside.kr]
위 기사는 AI가 자동으로 번역한 기사입니다.