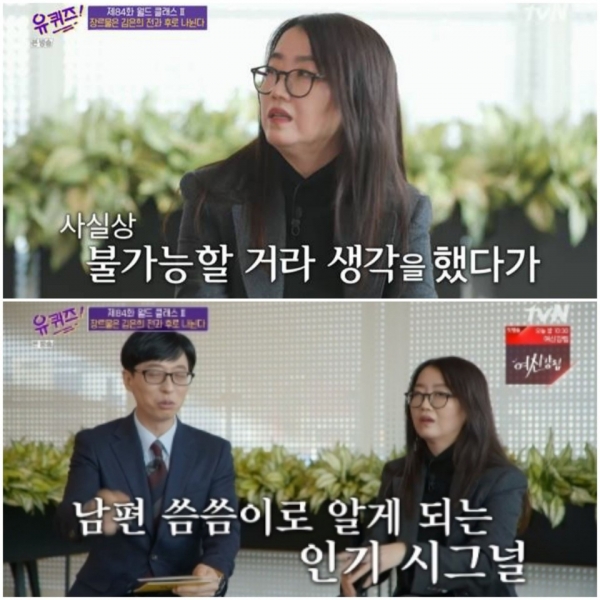 Writer Kim Eun-hee revealed that she realized the success of'Kingdom' with her husband Jang Hang-jun's card price.
In tvN'You Quiz on the Block' broadcast on the 9th, writer Kim Eun-hee appeared in the second episode of the'World Class' special.
Eunhee Kim is a popular writer who has written'Sign','Ghost','Signal', and'Kingdom'. He said, "In fact, I'm almost in my studio, and I'm very scared, so I can't find a response. What should I do if I swear (because I want)?" He said, "I've been looking for articles or blogging after about a month." said.
Writer Kim Eun-hee has risen to stardom worldwide with'Kingdom', but he said, "My life is the same. I am in the same studio only." "But my husband Jang Hang-jun uses my card. The price of the card I use is getting higher. The person who ate soju keeps buying wine bars. I go. Sometimes I ask for pocket money. I think I'm making good money, but I also do YouTube. It's weird," he said and made a laugh.
Writer Kim Eun-hee also revealed the secret story of'Kingdom'. He said, "Since writing'Sign' in 2011, I thought I wanted to write a drama like this. At that time, I actually thought that the basic production environment, and zombies have to cut their throats, but in the air, it is. I thought it would be possible, but when I met Netflix, I wondered, "Isn't it possible."
Writer Kim Eun-hee replied, "The story that I find interesting is genre material" because of his insistence on genre. Subsequently, the sequel'Jirisan' is also "It's a mystery. I once had a hard time mentally. I wanted to write a genre that saves people (I came to use Mt. Jirisan). I also want to show the vast nature. But when I wrote it, it was very similar to the previous work. Said that, it attracted attention.
On this day, artist Eunhee Kim cited fear as his genre occupational disease. "I was scared in the first place, but I was more scared by writing genre stuff." He explained in detail, "I run around because I'm afraid of the underground parking lot. I can't drive the national road by myself. I can't see the room mirror. Someone will get up and somebody will stand."
Next, he said, "It seems that the writers say'I am the most difficult to write right now.' In the case of Melo, there are so many good works that it seems difficult to avoid self-replicating." She made her debut as a melody. It was'That Summer' starring Lee Byung-hun and Soo-ae in 2006. But I don't seem to believe in love. There doesn't seem to be everlasting love," said Melo writer's grievance.
Regarding the world of his work, Kim Eun-hee said, "A world where common sense works. Of course it should flow, but I hope it doesn't. It would be nice if all crimes could be prevented, but since it cannot be done, it contains courtesy and consolation for the bereaved family. "I want to."
Lastly, Kim Eun-hee mentioned'joint' as giving up to get to this position. He replied, "If I sit for three or four hours, it hurts so much. I don't even exercise and I feel like I'm just getting tired."
[News Inside Reporter Kang Haru news@newsinside.kr]
위 기사는 AI가 자동으로 번역한 기사입니다.